Sinn Fein men accompany Martin Corey at funeral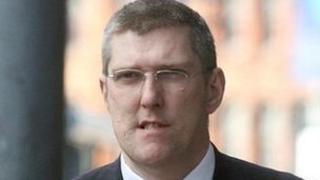 A convicted double murderer was allowed temporary release to attend his brother's funeral on Thursday after originally being barred from doing so.
Martin Corey, 61, is serving life for the murder of two RUC officers in 1973.
He was released in 1992 but sent back to prison in 2010 on the basis of "closed material."
He was accompanied at the funeral by Sinn Fein's John O'Dowd and Raymond McCartney. He is now back in Maghaberry Prison.
Mr O'Dowd, the education minister, said he had agreed to accompany him on humanitarian grounds.
"This was a humanitarian gesture from the justice minister to a man who had lost his brother," he said.
"I went along as an MLA, I offered reassurance to the justice minister that Martin would adhere to the conditions of his humanitarian parole, Martin did adhere to those conditions and Martin has now returned to jail."
Earlier a High Court judge had asked the prison service to reconsider their decision not to allow Corey to attend the funeral.
After the funeral, a prison service spokesperson said: "The decision was taken to grant temporary release to Martin Corey for the duration of the funeral mass of his brother on the basis of assurances that he would be accompanied at all times by a senior Sinn Fein representative.
"All prisoners are entitled to apply for compassionate temporary release.
"Having assessed all the factors in the case, temporary release was authorised under strict conditions. The prisoner returned to Maghaberry at the designated time."
Corey, who is from Lurgan, was released on licence in 1992, having served 19 years behind bars for the police officers' murders.
In April 2010, Secretary of State Shaun Woodward ordered his recall.
Traditional Unionist Voice leader Jim Allister criticised Mr O'Dowd for accompanying Corey at the funeral saying it showed the "pan republican nexus" between Sinn Fein and dissident republicans.
"When it suits, Sinn Fein denounces dissidents as 'traitors', yet campaigns for their prisoners and today provides an official escort," he said.