Is Catholic contentment slowing the growth of Sinn Fein?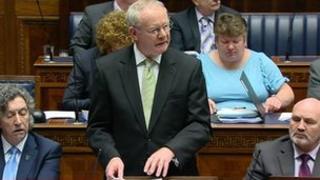 When Martin McGuinness rose to Deputy First Minister, he became a symbol of Sinn Fein's dominance of northern nationalism, and the SDLP's decline.
But Sinn Fein's rapid growth has slowed - to less than one per cent last year.
The combined nationalist vote also dropped to around 41% in the assembly poll - having peaked at around 45% in 1999.
This is despite a rise in the Catholic population.
Queen's University politics professor Adrian Guelke suggested a number of factors at play.
"One obvious reason one can point to is Catholic contentment with Northern Ireland - a greater feeling that Northern Ireland now belongs to Catholics as much as Protestants. It is no longer in the famous phrase a 'cold house for Catholics'."
Prof Guelke cited also the economic disasters affecting the Eurozone and the Republic's economy - and the fact that the Catholic population is very young, and young people often do not vote.
Challenges
Paul Nolan of the Community Relations Council who authored a recent peace monitoring report which highlighted many of these issues said these trends pose challenges.
"Here's Sinn Fein's problem...the more they succeed on the equality agenda, the less Catholics want a united Ireland."
Sinn Fein's Conor Murphy said his party is attracting and promoting young people.
But what about this trend? Doesn't it make it harder for Sinn Fein to become the largest party here as it competes with the SDLP for nationalist votes?
Mr Murphy said his party is not so narrowly focussed - that it competes with all parties, not just the SDLP.
"it's not just simply a matter of looking at another political party and deciding, you know, can you pick over the carcass of that party as Fianna Fail had considered with the SDLP a number of years ago.
"It's a matter of trying to continue to improve what you are doing, continue to appeal to all voters. And we place a great emphasis on unionist outreach and persuasion of unionists in relation to our overall project."
Interesting patterns
Of course, the Catholic vote has never been exclusively Sinn Fein or SDLP.
Gerry Lynch joined the Alliance Party in the 1990s as a teenager living in a republican area. Now a political consultant he says more Catholics are opting for Alliance, or indeed the Green Party.
But he notes some interesting patterns in South Belfast where the MP is SDLP.
"Alasdair McDonnell in the last three or arguably even four general elections in South Belfast has clearly attracted a significant Protestant vote well into the thousands and some of those people will then vote Ulster Unionist or DUP or Alliance in council elections."
Mr Lynch said he noticed anecdotal evidence from ballot boxes of Protestants from Taughmonagh, Belvoir and the Lower Ravenhill Road voting for Dr McDonnell too.
Stephen Farry, the Alliance minister, said his party is benefiting from changing attitudes.
"There is significant evidence especially in recent elections of that pluralism emerging. We even have a situation in my own constituency of North Down where we have a politician like Sylvia Hermon who can reach across a very wide range of voters.
"In terms of our own mandate, we have the success of our own policy where we have gained in each of the last last four or five elections."
Renewal
While this could limit Sinn Fein's ability to grow, and further squeeze the SDLP, one young member from Warrenpoint said he is a sign of SDLP renewal.
Kyle Boyd is a 23-year-old student from a mixed marriage. Six years ago, he chose to join the SDLP rather than Alliance or the Ulster Unionists.
"It was the youth policies and the vibrancy of the SDLP had that attracted me to them. They were going to lead the youth of that day and the present day into a future where we are going to be in a reconciled Ireland."
Conor Murphy said Sinn Fein is getting some interesting visitors to its offices.
"We find people who have families who have had links to the police and UDR now coming to our offices. Right across all constituencies reports are consistent. And we are attracting a broad number of people who obviously value the service we provide.
"Now whether that translates into people voting for you or not we will continue to provide those services."
Mr Lynch said the forthcoming census, due to be published in the autumn, is going to show rising numbers of people who do not want to be identified with one religion or another.
"I think it is going to get harder for elections to be predicted in Northern Ireland. I think that's a very good and healthy thing."