McKeown trial told sexual assault 'did not contribute' to death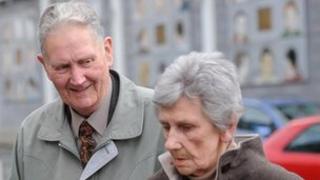 Northern Ireland's state pathologist has conceded there was a "reasonable possibility" an alleged sexual assault injury sustained by a disabled teenager did not contribute to her death.
Professor Jack Crane has been giving evidence for a second day at the trial of 88-year-old David Johnston and 86-year-old Sarah Johnston.
The pair from Carwood Drive in Newtownabbey are charged with the manslaughter of their grand-daughter Rebecca McKeown. They deny the charge.
They also deny a further charge of child cruelty.
The prosecution claim an alleged sexual assault by one or both grandparents led to Rebecca's death from pneumonia.
Under cross-examination on Thursday, Professor Crane maintained it was his professional considered opinion that the injury he found on 14-year-old Rebecca did contribute to her death in March 2001.
But after an extended discussion on the topic where a defence lawyer asked the scientist repeatedly if there was a possibility the injury did not contribute to Rebecca's death, Professor Crane said: "I concede the point you are making - all I can do is give my opinion to the best of my ability."
He denied, however, the suggestion put to him that after a consultation with senior barristers and police "someone wanted you to tighten up their case" or that he "moved from a guarded proposition to a much more aggressive proposition".
He explained that he had made a further statement to "clarify" his first report from 2001.
The lawyer suggested: "It's very, very difficult to have a proper conclusion in a case like this."
Professor Crane agreed: "It was a very complex case, yes."
The trial will resume on Monday when the jury will hear evidence from the consultant neurological paediatrician who had 'lifelong' care of Rebecca.