Nipsa brands PSNI rehiring policy 'jobs for the boys'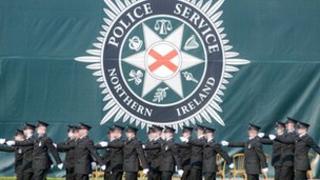 Northern Ireland's largest public sector union has called for an end to the PSNI's policy of rehiring retired officers for jobs that are not publicly advertised.
Nipsa has described the policy for recruiting temporary agency staff as "jobs for the boys". It has also claimed its members have been put under pressure by the police not to raise their concerns.
However, the PSNI said it gave Nipsa an "extensive presentation" on agency staff earlier this year.
Hundreds of former RUC officers have been rehired by the PSNI on temporary contracts after retiring with generous Patten redundancy packages.
Nipsa, which represents more than 1,200 civilian staff working for the PSNI, said they were being denied opportunities because of the policy, which will be discussed at Nipsa's annual conference next week.
It claimed members were put under pressure by the PSNI not to speak to the policing board.
Ryan McKinney from Nipsa said: "Members have raised with us, consistently over the years, a feeling that there is a jobs for the boys culture in the PSNI.
"They have now articulated that in the form of a motion to our conference.
"Our concern is not based on speculation. We have hard evidence that in the run up to someone retiring or leaving the organisation under Patten, they have been able to manoeuvre themselves into a position where a job is created for them on the other side, if you like, a civilian role.
"They are able then to prepare themselves to come back into that role and are supported in doing so in the organisation."
The union has raised its concerns in meetings with the policing board and the audit office, which is conducting an investigation into the PSNI recruitment policy.
The audit office hopes to have a draft report ready by the end of May.
In a statement, the PSNI said there was an existing and well understood procedure for the resolution of disagreements in common with good industrial relations practices and that issues of concern should be raised through the appropriate channels.
The policing board said it was an independent body which sets its own agenda for meetings and decides who should participate.
"The Policing Board engages with a wide range of organisations and welcomes informed discussion and debate with these bodies in order to hold the Chief Constable to account and ensure the delivery of an effective police service for the whole community."