Two homes are damaged in north Belfast shooting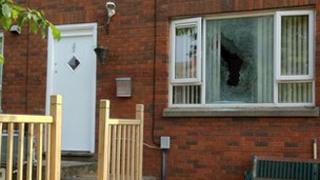 A flat and house in the Antrim Road area of north Belfast have been damaged by gunfire.
Three men were in a flat in Avoca Street at about 01:45 BST on Friday when a bang was heard, smashing the outer pane of a double glazed window.
No-one was injured. A front window smashed at an empty house in Summer street is believed to have happened at the same time as the other incident.
Police believe both windows were damaged by gunshots.
Alliance Councillor Billy Webb said: "I am extremely concerned by these two shootings. I am worried by the intention behind them."