Ex-policeman Kyle Jones 'risked PSNI lives' in prison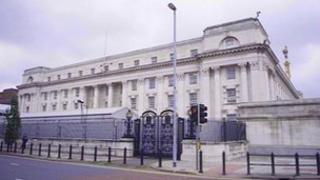 A former policeman risked scores of serving PSNI officers' lives by passing their personal details to inmates while he was in jail, a court has heard.
Kyle Jones allegedly circulated lists of directions to the homes of his former PSNI colleagues while he was on remand in Maghaberry Prison.
The High Court was told he also passed on the names of their family members and where the officers socialised.
Mr Jones claims to have compiled the lists for entirely innocent purposes.
It was also alleged that the lists contained details of some officers' sexual indiscretions.
The former probationary constable, who left the police four years ago, is originally from Ballyclare in County Antrim.
He was a remand prisoner facing robbery charges at the time the lists were discovered.
He has brought judicial review proceedings over a decision by the PSNI to open a letter to his solicitors amid unfounded fears that it contained further security information.
Mr Jones claims the correspondence was legally privileged and that opening it breached his rights to privacy and a fair trial.
But counsel for the PSNI said the action was necessary to ensure the lives of officers were protected.
Neasa Murnaghan argued that police could not afford to rely on assurances from Mr Jones that he had destroyed a second list containing details on another 45 officers.
She said he had refused a suggestion for an independent barrister to open the envelope and study its contents.
Based on the previous list supplied to police by another inmate, a decision was taken at a "very high level" to examine the letter and conclude it was legitimate legal correspondence.
Mrs Murnaghan said: "These were incredibly complex details Mr Jones had committed to writing and obviously raised hugely significant security issues for these officers whose security had been breached in this matter."
The court heart that handwriting analysis was carried out between the original list and Mr Jones' police notebooks as part of the inquiries.
Mr Jones was said to have revealed that he had compiled information on other officers but then destroyed it.
"The applicant had not just given to one prisoner this very detailed list which exposed police officers to risk, but had disseminated these details throughout the prison, including to some potentially very dangerous criminals who, it would be expected, would make use of these details of police officers in order to further attacks on the officers," Mrs Murnaghan explained.
Barry Macdonald QC, representing Mr Jones, pointed out that suspicions about the letter containing a list proved groundless.
He accepted that police were in a "dilemma" as they balanced their officers right to life with his client's legal rights.
Mr Macdonald contended: "Present authority would indicate that professional legal privilege is an absolute privilege, it cannot be overriden by any other public interest."
The judge, Mr Justice Treacy, must now decide whether an arguable case has been established to warrant the challenge proceeding to a full hearing.
He is due to deliver his verdict next week.