Hotter than Athens - Northern Ireland basks in sun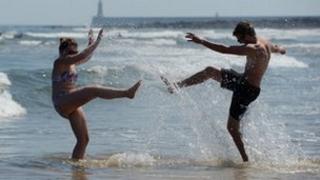 After a few weeks which had below average temperatures for May, Mother Nature has finally decided to relent and let the sunshine out.
As a result, temperatures in Northern Ireland have soared.
At 14:00 BST on Friday, the Met Office thermometer in Castlederg, County Tyrone, registered a toasty 26C.
That is just shy of the record high for May which was set in Knockarevan, County Fermanagh, on 31 May 1997 when the mercury shot up to 28C.
As many of our friends and family jet off for warmer and sunnier climes those of us who stayed put can sit back and relax in the knowledge that it was warmer in Northern Ireland than in many sun destinations around Europe.
Whilst we hit 26C on Friday afternoon, Athens in Greece sat at 25.5C, as did the Balearic island of Ibiza.
At the same time the popular Canary island of Lanzarote basked in heat of 25.3C while the resort of Las Palmas on its sister island, Gran Canaria, managed a cooler 23.7C.
The good news does not end there. Although it may be a little cooler, there is plenty of sunshine to come this weekend, perfect for the BBQs and the Eurovision Song Contest parties.
Just remember to protect from the sun at this time of year - slip-slop-slap-slide: Slip on a t-shirt, slop on the sunscreen, slap on a hat and slide on the sunglasses. Enjoy.