Steam engine Bangor Belle recalls bygone era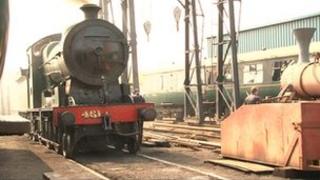 It has taken 11 years to restore the steam engine, the 416.
Now the locomotive, built in 1922, set off as the Bangor Belle, from Whitehead to Bangor on Saturday.
Passengers were able to get on the carriages at Carrickfergus, Belfast and Lisburn.
The Railway Preservation Society of Ireland has spent hundreds of thousands of pounds on restoring the 90-year-old engine.
David Orr from the society said it was about "recreating the experience from a bygone age".
"Quite a lot of the engines like this would have taken people to the ports," he said.
"Having the sound of an engine working up a hill, the sound of the whistle and the smell of the smoke, it is a whole day out for your senses really."
Nelson Poots is another volunteer and drives the engines.
"The engine takes between a quarter and half a tonne of coal to light it up and around 50lbs of coal per mile," he said.
Jim Adams helped restore the engine and is delighted to see it can still put smiles on faces.
"When I came here first, the fire box, the 461 was sitting out," he said.
"I did a lot of the boiler work with it.
"To see it lit up and go on past the house and the kids running down to see a steam train go past, it is a good feeling."