Sinn Fein's Martin McGuinness confirms unionist talks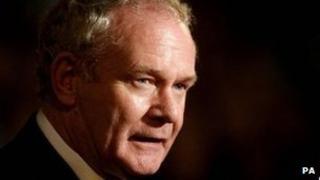 The Northern Ireland Deputy First Minister Martin McGuinness has said republicans have been talking privately to a "very significant group of Protestants and unionists".
It is understood one of those involved is the Protestant clergyman who witnessed the destruction of IRA weapons, the Rev Harold Good.
Mr McGuinness was speaking at the Sinn Fein party conference.
The ard fheis is taking place in Killarney.
Sinn Fein president Gerry Adams is due to address the conference on Saturday.
He is expected to set out his party's opposition to the European fiscal treaty ahead of next Thursday's referendum vote.