Mauritius fascinated by Michaela McAreavey murder trial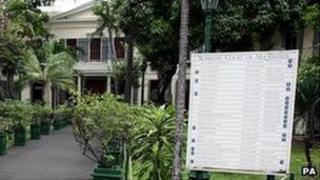 The Caudan Waterfront is Port Louis' answer to the hugely successful Waterfront project in Cape Town.
It has tried to replicate the South African tourist mecca, creating a hub of designer clothing boutiques, jewellers and craft markets.
Once again the Waterfront is teaming with visitors.
A liner carrying passengers from the Far East is docked in the port, and the tourists are happily snapping pictures of the Caudan, oblivious to the Michaela McAreavey murder.
I ask a few of them if they have heard of her? Do they know about the trial?
No. None of them has any knowledge of the tragedy in spite of the media attention it is generating on the island.
The trial is making the front page of every newspaper, every day.
Taxi drivers, barmen and shop assistants have all spoken to me about the "shock and horror" of the killing.
Outside the Supreme Court I have been stopped by local people who want to express their outrage.
All of them say they want justice, all of them want me to "enjoy this paradise island", all of them want me to "tell people to come visit Mauritius, come visit Mauritius".
This is no surprise - aside from the tuna industry and agri-business, Mauritius depends on tourism.
There is a drive to attract Europeans, in particular, to the many high-end, luxury complexes dotted along the spectacular coastline.
The tourism authority hopes to have two million visitors arriving here annually by 2015.
Impact
They want tourists with the money to spend on two weeks ''in paradise'' such as retired couples, golfers and honeymooners - visitors just like the McAreaveys.
Mauritians are well aware of the potential impact this case could have on the industry upon which they are so reliant.
Yet, scratch beneath the surface, beneath the apologies and the pleasantries, and their hope is that if justice is done, it will not be on a Mauritian head.
On Friday the court heard that a person or persons staying in Legends, made a late-night departure just hours after the killing.
Speculation among the locals here is that these mysterious residents fled in the dark after carrying out the murder, and that they were Irish.
Each day small clusters of supporters of Sandip Moonea, one of the accused, hang out of nearby office windows and stand on terraces, shouting messages of support.
Even within the courtroom itself there is an unusual atmosphere; an air of support for the accused, not only from their family members and friends but also from the 50 or so law students who race up the court stairs each day to secure their seats and watch their heroes in the defence team at work.
They idolise the outspoken and tenacious Sanjeev Teeluckdharry - who was reprimanded by the judge for his high energy - and they are in awe of the extrovert Ravi Rutnah, with his flamboyant and jocular style of questioning.
There is no such celebrity status for the prosecution team and its fresh-faced leading barrister Mehdi Manrakan, the Principal Counsel for State who studied law at University College Dublin, graduating in 1997.
His responses to Mr Teeluckdharry's high-octane assaults are more low-key.
It appears these opponents have history, with Mr Justice Prithviraj Fecknah alluding to some sort of pre-trial truce between the pair.
"All of you stand up," he snapped.
"I thought we had sorted this out, it was clear that these kind of personal exchanges are not going to be tolerated.
"I would ask Mr Teeluckdharry to contain yourself and your emotions and I would ask State to intervene only when it is strictly necessary."
This week the court heard from six witnesses and started hearing from a seventh, before breaking up early on Friday when Mr Teeluckdharry asked the judge: "Can we break at 2.30pm? I am feeling exhausted."
Around 20 witnesses should have given evidence by now and the international press had been told that the case would be finished in two weeks, but after four days in session, it would appear we are only a quarter of the way through.
The trial continues on Monday morning.
Both men charged with the murder deny any involvement.