Newry company First Derivatives makes £7m profit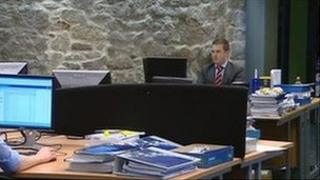 The Newry-based firm First Derivatives has made a profit of almost £7m this year.
Pre-tax profits have increased by 7% from £6.5m to £6.9m.
First Derivatives makes financial analysis software used by investment banks and stockbrokers all over the world.
The firms said this year's growth was down to investing in new products which gave more choice for their customers.
However, the firm said it was wary about predicting further growth for the next financial year.
Speaking on BBC Radio Good Morning Ulster, Brian Conlon, chief executive officer of First Derivatives, said the company had captured the market needs and continued to build on that.
"We employ people from the universities in Belfast and then shift them all over the world, so we have people in the likes of New York and Sydney and London and continental Europe," he said.
"By and large we recruit locally and train people in Newry."
First Derivatives now employs 662 people, compared to 524 at the end of last year.
The majority of employees are based in its Newry headquarters, but the company also opened a new office in New York within its financial year.