NI Prison officers agree to reforms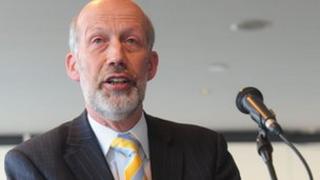 NI Justice Minister David Ford has welcomed a decision by the Prison Officers' Association (POA) to sign up to an agreement on new working practices.
Mr Ford said the move marked a new era of industrial relations in prisons.
The agreement includes the recruitment of hundreds of staff for new roles on lower salaries.
They will replace prison officers leaving as part of a voluntary redundancy scheme.
The new arrangements were agreed in principle between prison management and union leaders in March and the POA then asked its members to vote on the proposed package.
It was announced on Monday that two-thirds of prison officers voted in favour of accepting the proposals.
Welcoming the decision, the justice minister said the agreement would help quicken the pace of reform across the prison service.