Search for teenager at disused quarry in Strabane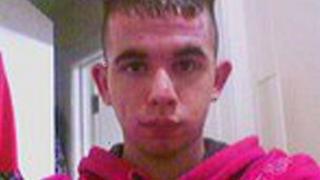 A search has resumed for a missing teenage boy at a disused quarry in County Tyrone.
Rhys Jack, 17, was one of a group of four who fell into the water from a makeshift raft in the Backtown area of Strabane on Monday evening.
The other teenagers were rescued.
The police commander in the area, Chief Inspector Andy Lemon, said they were doing everything they could to recover his body.
"At the moment we have police divers and a body recovery dog down at the scene," he said.
"We also have some of the witnesses that were there yesterday, who are assisting those divers with Foyle Search and Rescue to identify the area in which Rhys drowned."
Father Michael Doherty spent much of Monday night with the family.
He said the family was hopeful the search team had located the general area where the teenager went into the water.
Police, firefighters and volunteer divers have been involved in the search.
About 150 young people gathered at the scene after people in the area heard what happened.
Community worker Teresa Stewart said the disused quarry site was popular with young people in the good weather.
She said it was a "very distressing time for everybody" but that many people in the community had come out to offer support.
"It is quite a deep quarry, there's a lot of material in it. It will take some time, they are hopeful they will find him."
Sinn Fein assembly member Michaela Boyle said the community was stunned.
"My heart goes out to the family. This is a well-known young lad with a large group of friends," she said.