Michaela McAreavey murder trial hears police officer 'lying'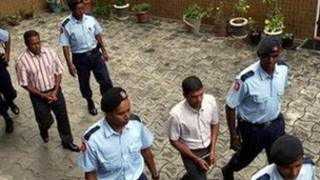 The trial of two men charged with murdering Michaela McAreavey is continuing to hear evidence from a police officer who arrested one of the accused the day after the killing.
Mrs McAreavey, a 27-year-old teacher, was found dead during her honeymoon at the Legends Hotel in January 2011.
Hotel workers Avinash Treebhoowoon, 30, and Sandip Moneea, 42, deny murder. On Tuesday, an officer who accompanied Mr Treebhoowoon from the hotel to a police station was accused of "lying". He denied this.
During Monday's hearing at the Supreme Court in Mauritius, the officer was robustly questioned about why a journey from the hotel with Mr Treebhoowoon had taken up to three hours when it should have only taken 30 mintes.
The court once again heard a complaint from the 30-year-old accused recorded the day after his arrest in which he claimed to have been tortured by the police.