P7 pupils receive post-primary school placement letters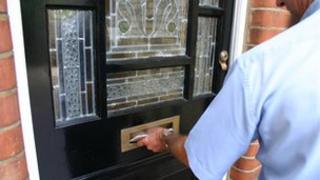 Primary seven pupils in Northern Ireland are receiving letters confirming which post-primary school they will transfer to in September.
The letters also provide parents with information on how to appeal if their child was not successful in securing a place at their preferred school.
It is the first time the placement letters have been delivered on a week day when children are due in school.
The change was made to prevent a repeat of postal delays experienced last year.
In a statement, the Department of Education (DE) said the "majority of children" would receive letters confirming that they had secured a place in "their first choice school".
Cricitised
For the third year in a row, thousands of P7 pupils have taken part in unregulated transfer tests, following a dispute over the scrapping of the 11-plus exam in 2008.
Those who chose to take part in this year's process received the results of their tests in February 2012.
In addition to outlining the appeal process for unsuccessful applicants, the department said the letters also explain "how to apply to the Exceptional Circumstances Body where parents consider there to be compelling reasons that require their child to attend a specific school".
The new weekday delivery has been cricitised by some, including the chair of Stormont's education committee, Mervyn Storey.
Mr Storey claimed the Department of Education had not consulted widely enough before introducing the change.
Diane Dawson, headmistress of Braniel Primary School in Belfast, told BBC Radio Ulster that it meant primary school staff had been left in "unknown territory".
She said the traditional Saturday morning delivery had allowed parents to prepare children "if there is disappointment or if there is elation, and they are able to refocus by the time they come to us on a Monday morning".
Problems
However, the department said the change had been made after discussions with the education and library boards and pointed out that it had notified all primary schools of the new weekday delivery as far back as 16 November 2011.
It explained that the break with tradition was in "response to problems encountered last year when delays in postal deliveries resulted in some parents not receiving this important information on the due date".
"As the due date fell on a bank holiday weekend it meant that there were three days when parents were unable to contact an official within their education and library board or primary school to seek advice," the statement added.