Body of Rhys Jack found in search of water-filled quarry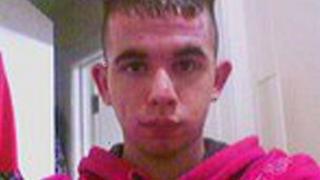 The body of a teenager who went missing on Monday has been recovered during a search at a water-filled disused quarry in County Tyrone.
The search began on Monday evening when 17-year-old Rhys Jack fell into the water from a makeshift raft in the Backtown area of Strabane.
Three other teenagers who fell into the water at the same time were rescued. Mr Jack's family said his friends had tried frantically to save him.
Speaking before the teenager's body was recovered, his uncle, Darren McGarrigle, said the family were "totally devastated".
"He is just a wee one. It shouldn't happen. The whole family is just absolutely in shock," he said.
Mr McGarrigle described his nephew as a "loveable rogue".
"He was a typical teenager," he said.
"He had his wee cheeky moments, but he was very kind and funny. He was a good lad."
PSNI Chief Inspector Andy Lemon said witnesses to Monday's incident had returned to the scene to assist Foyle Search and Rescue divers to identify the area where Mr Jack when missing.
Police, firefighters and volunteer divers were involved in the search.
About 150 young people gathered at the scene after people in the area heard what happened.
Community worker Teresa Stewart said the disused quarry site was popular with young people in the good weather.
She said it was a "very distressing time for everybody" but that many people in the community had come out to offer support.