Grants for renewable energy projects frozen in jobs row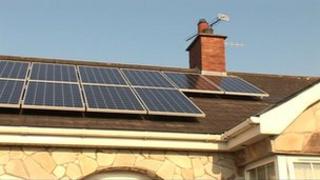 Grants for some renewable energy projects in Northern Ireland have been frozen after it was claimed that dozens of jobs are being put at risk.
They are allocated to small projects, including the fitting of solar electric and water-heating panels to homes.
Changes to the way the grants are administered has meant customers will only receive one if they use Power NI's preferred installer.
The NI utility regulator's office is to reconsider the approvals process.
The money is raised from a levy on electricity bills and around £1.5m of the sum is used to fund small micro-generation projects, usually in domestic houses.
The change to this particular part of the scheme means that the work is being carried out by just one installer and administered by Power NI.
Competitive
This means that customers using one of the 46 existing installation companies are unable to get a grant.
The companies claim the decision is putting them and their employees at risk.
The only grants for fitting solar electricity-generating (PV) panels comes from the levy controlled by the Northern Ireland utility regulator.
Previously the scheme provided grants for work by any suitably qualified installer.
It meant that the work had to be carried out by specialist companies who were registered under the micro-generation certification scheme (MCS).
It also ensured the market was competitive.
Under the new scheme customers are obliged to use the sole installer provided by Power NI if they want to get a grant.
Some see this as being unfair and not in the customers' interest. Previously Power NI had made the grants widely available.
Cancelled orders
A Power NI spokesperson told the BBC: "Power NI applied for and was successfully awarded grants by the regulator from the Northern Ireland Sustainable Energy Programme (NISEP) fund. This fund is open to any organisation to apply to".
"Power NI has many years experience in the micro renewables industry. Our customers tell us they want Power NI to provide them with a one-stop shop service, so they can be assured of high quality installation and excellent customer service."
Installers said that in some cases they have been left with piles of solar panels ordered for clients who have now discovered they will not get a grant and have cancelled their order.
With solar panels being fitted by just one installer, its claimed that customers are unlikely to shop around for competitive quotes, as would happen in the rest of the UK.
Faced with using Power NI's installer and getting a grant of up to £3,000 or using another MCS-registered installer and getting nothing, the customers decision is almost inevitable.
Following pressure from a number of the smaller MCS-registered companies, the grant scheme has now been suspended.
Common sense
The regulator wrote to the companies telling them that, following a meeting with Power NI, they have agreed to "a temporary suspension of customer applications".
Negotiations between some of the MCS-registered installers and the regulator will continue on Wednesday.
Power NI have said they are also working with the regulator to find a common sense way forward.
The utility regulator's office has said they are going to reconsider the renewable approvals process.
Nothing is expected from the office before mid-June.