Hydrant abuse hits water Belfast supplies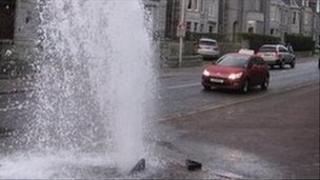 Fire hydrant abuse in parts of Belfast has resulted in disrupted water supplies in hundreds of homes and businesses, NI Water has said.
Fifty hydrants have been vandalised with an estimated three-quarters of a million litres being wasted daily.
NI Water said staff had been working around the clock to close vandalised hydrants.
However, the company said its efforts were hindered in many cases when its staff were threatened and abused.
It is thought that young people with access to water keys have been responsible for opening some hydrants.
NI Water said hydrant abuse has resulted in the equivalent of the supply to 2,000 homes being lost per day.
The company said it had received almost 200 calls on its Waterline over the past few days from members of the public "because of the mindless waste of water in their community".
NI Water spokesman Ronnie Glendinning said the wasted water was impacting on the company's ability "to maintain flows and pressures to homes as well as industry including our local hospitals and vulnerable customers".
Mr Glendinning said opening fire hydrants would be "extremely dangerous" if a fire was to break out.
"Teams of staff had to attend over 50 sites to close hydrants, often requiring support from PSNI or community representatives," he said.
"The cost to NI Water and ultimately the taxpayer will run into thousands of pounds if this continues through the summer.
"Unfortunately, this activity is a particular problem in the Belfast area when there is good weather."