UN doctors to examine Marian Price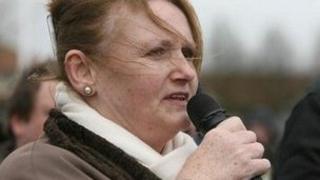 Veteran republican Marian Price is to be examined in prison by two doctors appointed by the UN, a court has heard.
She had been due to appear before Belfast Crown Court, but the judge was told she was too ill to attend.
She faces a charge of providing a mobile phone to the gang behind the murder of two soldiers at Massereene Barracks in March 2009.
The judge agreed to adjourn the matter until 19 June to allow the UN doctors to see her and to make their report.
A defence lawyer said arrangements had been made for the doctors to visit the jail next week, after which "hopefully by then there will be a fuller picture" on her condition.
Price was jailed for the IRA bombing of the Old Bailey in London in 1973, and last year the secretary of state revoked her release from prison on licence.