Brendan Rodgers agrees deal to be new Liverpool manager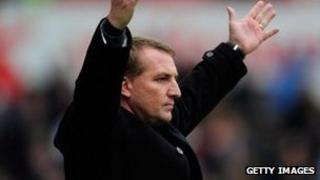 Brendan Rodgers has agreed a deal to become the new manager of Liverpool Football Club.
The Carnlough man is understood to have signed a three-year contract at Anfield and his appointment is likely to be officially confirmed within 24 hours.
Liverpool is expected to pay between £4m and £5m in compensation to secure the County Antrim man's services.
Becoming manager of one of the biggest clubs in football may seem like a meteoric rise for the 39-year-old.
However, it has been a long and at times difficult journey for the Carnlough man.
He turned to coaching after being forced to retire as a player at 20 because of a genetic knee condition.
After a spell managing Watford he became manager of his former club Reading, only to leave "by mutual consent" after just seven months.
Rodgers, who is married with two children, had been youth team coach at Reading after his playing career ended, before being invited by the "Special One", Jose Mourinho, to take the same role at Chelsea in 2004.
He was eventually promoted to become manager of their reserve team in 2006.
"I like everything in him," Mourinho said. "He is ambitious and does not see football very differently from myself.
"He is open, likes to learn and likes to communicate."
Despite his early exit from the top job at Reading, Rodgers was appointed Swansea City manager on 16 July 2010.
By the following April, he guided Swansea to the Championship play-offs and faced his old club Reading at Wembley on 30 May.
Swansea won the game 4-2 to become the first Welsh team to gain promotion to the Premier League.
Afterwards, Rodgers said: "At 4-2 and 30 odd seconds to go - and I've never, ever done it before - my mind sort of wandered to my journey as a coach.
"From my early 20s, working with kids, driving many hours, missing time with my family, all that emotion - the whole journey flashes through your mind."
Although they were among the favourites to be relegated the next season, Swansea instead finished a respectable 11th place in the table, and drew praise for their passing game and a string of impressive performances, including a 3-2 victory over Arsenal.
Rodgers was named Premier League Manager of the Month in January.
He lost his mother, Christina, in 2010 and his father Malachy the following year to cancer.
Rodgers said he liked to think his team's performance reflected his father's work ethic.
"I used to help dad paint and decorate to earn pocket money. He installed in me the value of a hard day's work. He believes that leads to success in whatever you do. He's right," he said.
"He'd work from dawn to dusk to ensure his young family had everything. I think you can see his philosophies in my team."