Twelfth family event planned for Belfast City Hall grounds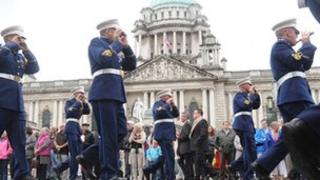 Organisers of the annual Orange parade in Belfast on 12 July are seeking to use the grounds of the City Hall for a family event.
Orangefest, along with Chamber of Trade and Commerce, Taste of Ulster and Belfast Centre Managements, are planning an event with an emphasis on food, craft, dance, face painting and balloon modelling.
The Festival of Fools would also be present in the streets with performances to reflect growing diversity in post-conflict Belfast.
The aim is to bring at least 1,000 extra visitors to city centre, over and above the estimated 12,000 who normally attend to watch the parade. A large number of stores will be open.
The council's strategic policy and resources committee has approved the use of City Hall grounds.