Liverpool job 'dream come true' for Brendan Rodgers' friends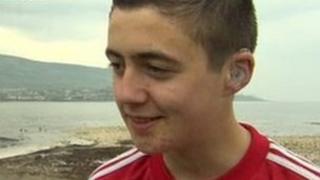 Friends and family of Brendan Rodgers have welcomed the news that the County Antrim native is to become the new Liverpool manager.
It is understood that the Carnlough man's appointment is due to be officially confirmed within 24 hours.
One of his closest friends, Hugh McKendry, described the news as "a dream come true".
Mr Rodgers' 18-year-old cousin, Liam Mitchell, said that as a Liverpool fan he "couldn't ask for any more".
"For Brendan to be walking out at Anfield, it's an absolute dream. The history that Liverpool have, it's just going to be amazing."
Speaking to the BBC in Carnlough, the teenager said he felt "proud" of his cousin's achievements at Swansea, but described the move to Anfield as "brilliant".
'Fantastic'
Under Mr Rodgers' tenure in 2010, Swansea became the first Welsh team to gain promotion to the Premier League.
Another cousin, Anna-Margaret Mitchell, said: "I'm so proud of Brendan" and described it as a "fantastic" day for Carnlough.
"I wish him all the best and I know he'll make it," she said.
Hugh McKendry - another Liverpool supporter - has known Brendan Rodgers for about 40 years and counts him as one of his best friends.
He said the news was "absolutely staggering".
Mr McKendry's 13-year-old son has already had contact with Liverpool and hopes to play for the club in the near future.
"To be honest, it's unreal to think that Brendan, whose been a best friend of mine all these years and has ran about these streets playing soccer, has now taken over as Liverpool manager," he said.
"He's going to be looking after my son hopefully one day."
Support
Another family friend, Liam Mulvenna said: "He has got a lot of support here in Carnlough and throughout Northern Ireland."
He said it would have been a big decision to leave Swansea to take the Anfield job.
"You see how well he did at Swansea, getting them from the Championship to the Premiership and now he's kept them up for another year."
"It's a big step for him but I hope he does well, you know? With a local man it's good to see him do well."