Constable Stephen Carroll's widow to meet parents of killer Brendan McConville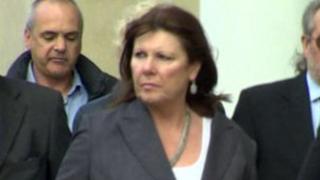 The widow of murdered policeman Stephen Carroll has said she will meet the parents of one of his killers.
Kate Carroll said the parents of 41-year-old Brendan McConville got in contact with her through The Irish News because they were moved by her story.
"It's a brave thing to do and I hold no malice for them, she said.
Constable Carroll, 48, was shot dead in Craigavon in March 2009. Brendan McConville is serving a 25-year minimum sentence for his murder.
His co-accused John Paul Wootton, 21, was jailed for a minimum of 14 years.
'Forgiveness'
Mrs Carroll said she was delighted when she heard of the McConville family's offer because she hoped it would "promote peace between communities".
"If people can see there's forgiveness on each side, I think it can help to heal the scars in this country," she said.
Mrs Carroll said she hoped their meeting, which was first reported by the Banbridge Leader , would also help her with her grieving process.
Ahead of the proposed meeting, Mrs Carroll spoke to Brendan McConville's 72-year-old mother Eileen on BBC Radio Ulster's Nolan Show .
Mrs McConville told the widow that she was "very, very sorry" for her loss but claimed that her son was innocent.
"I'm sure she'd like to see the killer, the proper killer, but my son is not a killer," she said.
The pensioner said the McConville family had been through "three years of hell" since the murder.
Mrs McConville also said that she had lost a brother, and that her own mother and her sister-in-law "never got over" his death.
She told the widow: "I know exactly what you're going through. We have been through all that ourselves."
Sympathy
In response to the protestations of innocence, Mrs Carroll said: "I can't comment on that because the judge has found Mr McConville and Mr Wotton guilty so I cannot overrule what a judge says."
She expressed her sympathy to Mrs McConville on the loss of her brother and the situation the family have found themselves in.
The widow added that during the trial, while some in the public gallery had mocked and jeered as details of her husband's injuries were revealed, the McConville family "conducted themselves very, very decently and well in court".
Mrs Carroll explained that her decision to meet the the McConville family was "part of the healing process, for me anyway".
"There's things I need to know. There's things I'm sure Eileen wants to know and I'm quiet happy to answer her questions.
"I think if we all sat down and did talk about this we maybe could get further," Mrs Carroll said.