Larne Council's £250,000 bill over power station rebate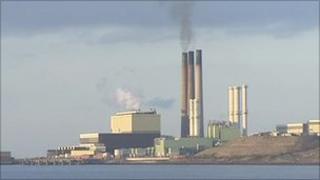 Ratepayers in Larne could see cuts to services after the council was hit with a bill for more than £250,000.
Ballylumford power station is owed the money back as a rates rebate following a problem with a generator.
The station is entitled to the money, but Larne MLA Oliver McMullan said it was a huge blow to the council.
"The council has already set its rate and budget for the incoming year and it means they could now face a cut of up to 3% from each department," he said.
"That will have an effect on services within council from community centres to cultural events and will see cuts right across the board."
Mr McMullan is calling on the finance minister to step in to ensure ratepayers in the borough are not directly affected but it could lead to a rise in household rates next year.
Now questions have been asked as to why Larne Council depended so much on the Ballylumford rates.
Mr McMullan said the council would now have to look at insurance in the event that it happens again.
Larne Councillor Drew Niblock said he understood it was the first time the energy company, now owned by American firm AES, had sought a rebate.
'Beyond control'
"This is beyond council's control, we as a council are now looking to see where we can save money and are doing everything in our power so front-line services aren't affected," he said.
The power station company claimed the rebate after it overpaid on its rates bill. This was because a generator failed which meant the company did not supply the amount of power expected.
The BBC understands that Larne Borough Council has held several meetings about the issue behind closed doors.
A spokesperson for the council said the way rates are set for power stations is unique to the energy sector. She said Larne Borough Council had written to Finance Minister Sammy Wilson to seek advice on the issue.