Pseudomonas families say lack of information added to grief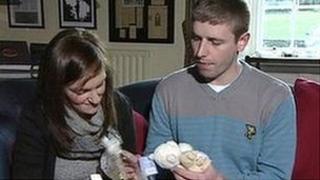 Families who lost babies to pseudomonas have said they were not made aware of the seriousness of the infection until after their children had died.
Four babies died from the bacterial infection in hospitals in Northern Ireland between December and January.
Families said that lack of information had added to their grief and confusion.
The final report into the outbreak said lessons must be learned about how complex information is communicated to parents of sick children.
Baby Caolan Burke died in Altnagelvin's neo natal unit in December 2011.
In January, three more babies died from the infection at the Royal Jubilee Maternity Unit in Belfast.
Traumatic
An independent review of the outbreak has been carried out on behalf of the Regulation and Quality Improvement Authority (RQIA) by a team led by Professor Pat Troop.
Their report has concluded that the bug was linked to water from contaminated taps in four neonatal units.
The team said that the bug spread while babies were washed during nappy changes and while breast milk was defrosted at the Royal Jubilee Maternity Unit.
The report also concluded that information shared between health trusts by email or phone was insufficient and lacked clarity.
One section of the report - The Family Perspective - gives a vivid insight into how parents coped in what must have been a very traumatic time.
Professor Troop has concluded that communication from the medical staff "could have been improved", particularly the level of language and information regarding the seriousness of the infection.
While most of the parents praised the actions of nurses who used "language that was easier to understand", in contrast, senior medics used more complex language that often left parents feeling "overwhelmed".
One family described the experience "as all a bit of a blur."
Some parents described their feelings of hope, as their premature baby seemed to be progressing well in moving from the incubator to breathing alone, were dashed as they were they informed that their baby had contracted pseudomonas.
They described to the review team a painful and emotional time as they watched their baby's condition worsen.
Unanswered questions
Families felt that they had not been made aware in time that their baby had pseudomonas.
Some said it had been mentioned in a passing conversation, or they heard it for the first time through a leaflet.
Many said they had been left with several unanswered questions, including if the death of their baby could have been prevented.
In her conclusion to this part of the report, Professor Troop said that it is "essential in a situation with such a tragic outcome that learning takes place."
She added that information should be passed on where possible in a private setting, and while leaflets are important, they should not replace personal contact.
Her report recommends that clinical staff be provided with sufficient support to allow them to concentrate on clinical matters, with other roles taken on by non-clinical staff.
It was suggested that this could be set out in a communication plan.
'Pain'
Health Minister, Edwin Poots, who commissioned the review, said he would act "swiftly and effectively" to implement all 32 recommendations contained in the team's final report.
Mr Poots said the families were "paramount" in his thoughts and added that their "grief and anxiety cannot be measured".
The minister said that "despite their pain, many have relived the events, the experiences and the emotions to contribute to this report in order to protect others".