Meeting would be 'difficult decision' for Queen and Sinn Fein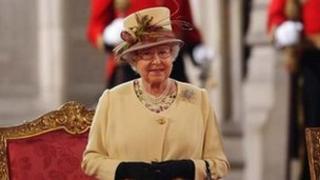 It would be a difficult decision for both the Queen and Martin McGuinness if the pair agreed to meet next month, First Minister Peter Robinson has said.
Mr Robinson made the remarks after it was confirmed that the Queen will visit Northern Ireland on June 26 and 27 as part of the Diamond Jubilee UK tour.
She will be accompanied by the Duke of Edinburgh on visits to Enniskillen and Belfast.
Mr Robinson said the Queen would be given a warm welcome by the public.
Official visits by members of the Royal Family to Northern Ireland are not usually publicised in advance, due to security concerns.
'Changed times'
Mr Robinson said it was "a sign of progress that Buckingham Palace has been able to give advance notice of the two day visit," he said.
"In the past, only a select few got to greet Her Majesty The Queen and most people would have been unaware that a visit was even taking place.
"This change in protocol will give people a great opportunity to demonstrate their fondness and admiration for Her Majesty by coming onto the streets to welcome her.
Mr Robinson said the announcement was "testimony to the changed times in which we live".
Jubilee gift
The Queen's first state visit to the Republic of Ireland last year was widely hailed as a diplomatic triumph and a sign of the improving relations between the UK and Ireland.
In March Sinn Fein's Martin McGuinness, Northern Ireland's deputy first minister, said he would consider meeting the Queen when she visited NI.
"I want to be a deputy first minister for everybody - for the unionist people, for the loyalist people, for the Protestants and the dissenters and those who don't believe in anything," he told RTE.
Mr Robinson has also revealed on Thursday that the Stormont executive is to present the Queen with a gift of a Belleek pottery bowl to mark her Diamond Jubilee.
Writing on his Twitter account, the first minister said that he had proposed the pottery present at an executive meeting and there were "no objections".
However, the TUV leader, Jim Allister, said the Queen's gift was a belated decision and claimed it had happened "only after repeated attempts by myself to obtain movement on the issue".