Stay with the Olympic torch every step of the way in NI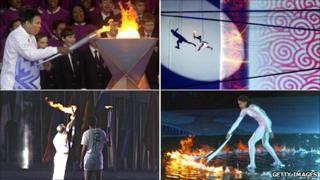 The famous flame set off from Land's End in Cornwall on 19 May and has blazed a trail across Great Britain ever since.
During its progress north, pop stars, sporting and community heroes and local VIPs have all helped to carry the Olympic torch through the cities, towns and villages on the 8,000 mile route.
It will take 70 consecutive days to get around the UK.
The flame arrives at Belfast City Airport on the evening of 2 June.
It then sets off at 6am on Sunday on a five day tour of Northern Ireland.
This will also include a trip over the border to Dublin.
Tracking
For the first time a dedicated BBC Online Olympic website is tracking the torch all the way and you can access a range of information telling you most everything you need to know about its journey.
"People will be able to go to the website and see exactly where the torch is at any time" says Mark Coyle, Editor BBC London 2012 Online.
"They will be able to search for days that haven't happened yet so that if you want to find out where it will be going next you can do that.
"You'll be able to see the list of streets the torch will be going down so you can make your own preparations.
"You will also be able to see the weather forecast at various times along the route so you can decide whether or not to take an umbrella or sunscreen".
Live coverage of the torch relay isn't the only unique service on BBC Online during the Olympics... viewers are being given the chance to never miss a moment of the games with 24 hour live high definition streams online.
Jewel
Mark Coyle says the coverage of these Olympics is unprecedented and he describes the HD streaming as the jewel in the BBC'S online crown for the 2012 Olympics.
"There will be sports commentary on all of the 24 channels and the sports will be explained in data appearing on the screen along with a wide range of information accompanying the pictures. Everyone from the most casual surfers to the sports nuts will hopefully be satisfied with what we have to offer."
The Olympic torch sets off from Belfast's Titanic building on Sunday morning finishing up at Moorfield near Ballymena five days later.
BBC Newsline will be reporting from the relay route over the five day event. Sarah Travers will be broadcasting live from Portrush, Londonderry, Newry, Belfast and Larne.
There will be also be coverage across Radio Ulster programmes,