Report says Union flag should fly only on certain days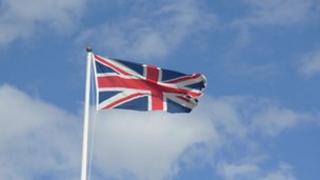 A leaked draft independent report into Belfast City Council's flags policy has said flying the Union flag on certain days of the year would be the best option to promote good relations.
The report also concludes that flying the Irish tricolour, alongside the Union flag, is the least favourable option for the community.
Four options were considered.
The report comes ahead of a public consultation on flags.
The leaked report was prepared by Policy Arc Ltd for a public consultation on the issue, after Sinn Fein objected to the present policy of flying the Union flag every day.
It examined whether the council's aim of promoting good relations would be better served by adopting a new flags policy.
While Sinn Fein wants a neutral working environment or two flags, the DUP favours no change.
The first option, flying the Union flag on certain days, is favoured by the Alliance Party which holds the balance of power on the council.
The council meets on Friday evening and is expected to back the plans by the council's Strategic Policy and Resources Committee to begin a public consultation on 6 June.
Fresh legal advice indicates that the present policy of flying the Union flag every day over city hall is lawful and that there is low risk of a successful challenge under discrimination law.
Risk
But this does not apply to the practice of flying the Union flag over the Ulster Hall and Duncrue Complex on designated days.
According to the draft report, the council has been advised that there is a higher risk of a successful claim on this issue.
According to the report, the Equality Commission views it as acceptable for a local council to fly the Union flag at its headquarters but this would not necessarily apply to all council buildings.
The draft report also contains the results of a survey, carried out last September of around 400 visitors to city hall.
Most of the visitors - more than 85% - were from Northern Ireland and most classified themselves as from a Protestant background (62%) - compared to 24% who said they were Catholic and 14% other.
54% said they felt pleased or proud or comfortable to see the Union flag flying every day
39% had no particular feelings
8% said they felt uncomfortable or offended
72% of Protestants felt pleased to see the flag flying every day compared to 12% of Catholic visitors
Around 12% of Catholics said the flag made them feel offended/unwelcome and 20% said it made them feel uncomfortable.
Most Catholics - 56% - had no feelings on the issue of the flag.