Police killer extradited to Republic of Ireland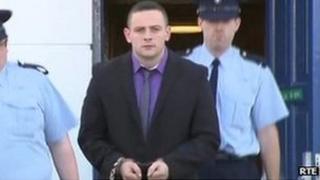 A convicted police-killer who was arrested in derry in March after escaping from prison in County Cavan has been handed over to the Irish police.
Martin McDermott escaped from Loughan House Prison.
He was eight months into a seven-year sentence for killing Garda Gary McLoughlin.
Garda McLoughlin died after the squad car he was driving was struck at speed by a car driven by McDermott.
It happened at Burt in Co Donegal in December 2009.
McDermott had been jailed for four months in Derry for offences following his escape from prison.
A European Arrest Warrant was received from the Irish Authorities following McDermotts arrest in Derry.
A prosecution barrister at the time told Judge Piers Grant that after his arrest in the Galliagh area of Derry McDermott pleaded guilty to assaulting three PSNI officers, resisting arrest and disorderly behaviour.
The barrister said McDermott, who has 91 previous convictions, ran into on-coming traffic at Fern Road, climbed over a wall and ran off when he saw members of a police foot patrol.
After a brief search, McDermott was caught and arrested. He was verbally abusive to the police officers, assaulted three of them, and also damaged a set of police handcuffs.
The barrister said following his arrest McDermott was taken to Strand Road PSNI Station where he admitted the offences and apologised to police for his actions.
He told them he had panicked and ran off when he saw the police officer because of a bad childhood experience and because he suffers from post-traumatic stress.
McDermott will now serve the remainder of his sentence for manslaughter and associated offences in the Republic of Ireland.