Liverpool confirm Brendan Rodgers as manager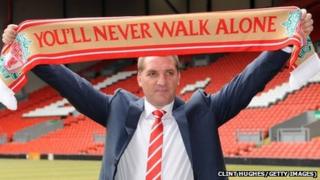 County Antrim man Brendan Rodgers has been officially confirmed as the new manager of Liverpool Football Club at a press conference at Anfield.
The 39-year-old Carnlough man succeeds Liverpool legend Kenny Dalglish at the Premier League club.
Rodgers said he felt "very blessed" to be manager of "a real special club".
"I promise I'll fight for my life and for the people in this city. If you can have success, hopefully you can be here for many years."
He added: "I always said that if I was to leave Swansea it would have to be for a top club .
"Once I found out I was the number one target, it was an easy decision.
"I'm really looking forward to working with some of the greats of this football club."
Rodgers said he viewed the job as a long-term process.
"We might not be ready for the title, but the process starts today," he said.
"It's the ambition of every manager, you want to get to the top.
"I'm very proud and very honoured today to be announced as manager of Liverpool Football Club."
He said Liverpool had a huge amount of support in Ireland.
"Liverpool, both in the north and south of Ireland is a massive club. That was one of the attractions, it's a real worldwide club.
Rodgers guided Swansea to the Premier League at the end of the 2010-2011 season - making them the first Welsh side to make it to the top flight of English football.
He paid tribute to his former club during the press conference.
"The only thing I want to say about Swansea is my deepest gratitude for what they've done," he said.
"It was a real special two years for me at Swansea City, we created history."
Liverpool chairman Tom Werner said Rodgers was an "enormously intelligent man" who had "travelled all over Europe to study and learn the best techniques".
"The style of football Brendan is associated with is exactly what we want to see at Anfield," he said.
"Aggressive, attacking play; Swansea were a revelation last season with their brand of entertaining football."
Rodgers was forced to retire as a player at 20 because of a knee condition.
He turned to coaching and after a spell managing Watford, he became manager of his former club Reading, only to leave "by mutual consent" after just seven months.
Rodgers, who is married with two children, had been youth team coach at Reading after his playing career ended, before being invited by the "Special One", Jose Mourinho, to take the same role at Chelsea in 2004.
He was eventually promoted to become manager of their reserve team in 2006.
Despite his early exit from the top job at Reading, Rodgers was appointed Swansea City manager on 16 July 2010.
By the following April, he guided Swansea to the Championship play-offs and faced his old club Reading at Wembley on 30 May.
Swansea won the game 4-2 to become the first Welsh team to gain promotion to the Premier League.
Although they were among the favourites to be relegated the next season, Swansea instead finished a respectable 11th place in the table, and drew praise for their passing game and a string of impressive performances, including a 3-2 victory over Arsenal.
Rodgers was named Premier League Manager of the Month in January.