Increased police presence as Olympic Torch and Jubilee celebrations begin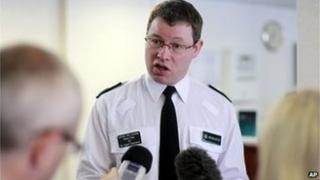 There will be an increased police presence during the Queen's Diamond Jubilee celebrations and Olympic torch relay in Northern Ireland.
Assistant Chief Constable Alistair Finlay also said the dissident threat "remains severe".
The Olympic torch will arrive in Northern Ireland on Saturday.
ACC Alistair Finlay said: "There is a small group of people who, historically, we have seen, will take any opportunity to cause disruption."
Mr Finlay also asked members of the public to be more vigilant. "I would appeal to the public to help us to look after everyone in the community."
Litter
The senior officer also confirmed that additional resources would be deployed over the celebrations.
"There will be an additional police presence in place for the next four days and maybe a bit longer.
"We are doing everything we can to make sure that potential opportunities are minimised."
Last month dissident republicans were blamed for leaving a device at the home serving PSNI officer's family home.
ACC Finlay also asked people to behave responsibly over the celebrations and not to drink and drive.
He also encouraged people to pick up litter if they took it to the beach.