Belfast woman among four kidnapped aid workers freed in Afghanistan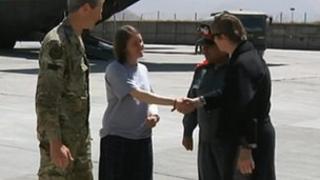 An east Belfast woman was among four aid workers freed by coalition forces after being kidnapped in northern Afghanistan last month.
Helen Johnston, 28, from Dundonald, Kenyan medic Moragwa Oirere and two Afghans were rescued in Badakhshan province on Friday after being captured on 22 May, the Nato-led Isaf said .
UK Prime Minister David Cameron called it an "extraordinarily brave, breathtaking" operation. In a statement, Ms Johnston's family said they were "hugely relieved".
They said it was "wonderful news that Helen and all her colleagues have been freed".
The statement added: "We are deeply grateful to everyone involved in her rescue, to those who worked tirelessly on her behalf, and to family and friends for their love, prayers and support over the last 12 days."
The DUP MLA Sammy Douglas said they are a very close-knit family.
"I know Helen's uncle who's a good friend of mine and certainly he will be absolutely overjoyed with this news," he said.
"The prime minister... actually spoke to Helen and her parents, and I think that was a nice gesture."
Ms Johnston is a graduate of the London School of Hygiene and Tropical Medicine. A spokesman said they were relieved to hear of her release.
The aid workers - all employees of Switzerland-based aid group Medair - were making their way on horseback to the remote, mountainous province of Badakhshan, in north-eastern Afghanistan, when they were captured. Five kidnappers were killed in the rescue, by UK and US special forces.
A fifth member - another Afghan national - was released earlier.
According to Isaf, the others were rescued by British and American troops who arrived under the cover of darkness.
Mr Cameron, who authorised the mission, said: "It was an extraordinarily brave, breathtaking even, operation that our troops had to carry out."
The prime minister said the outcome should serve as a warning to those who chose to kidnap British citizens that they could expect "a swift and brutal end".
He also said he had spoken to Ms Johnston since her release, as well as her father Philip - a senior tutor at Cambridge University college Hughes Hall - mother Patricia, and brother Peter.
"They are incredibly relieved about what has happened. It's just a huge joy that they are finally going to be reunited and they are all healthy and all well."
Mr Cameron said the rescue involved a number of British troops, none of whom was injured.
"We will never be able to publish their names but the whole country should know we have an extraordinary group of people who work for us who do amazingly brave things."
Lt Gen Adrian Bradshaw, Isaf deputy commander, told the BBC the mission took place in "some of the most demanding country on the planet".
"They had to cover the ground very rapidly... The terrain was incredibly difficult terrain, very rocky, with scrub, in a deep gully - it was about the most testing target you could imagine," he said.
"It does take real skill and there's real risk involved in this sort of operation, and we wouldn't have done it were there not a very clear threat to the lives of the hostages, which there was."
Lt Gen Bradshaw also paid tribute to the two Afghan hostages whom he said were "incredibly brave and loyal and stayed with the two girls despite having opportunities to escape".
Kenya's Ministry of Foreign Affairs thanked the British government, British High Commission in Nairobi, Medair and Isaf.
"The ministry further thanks the family of Miss Oirere and in particular Dr Oirere and his wife Milcah for remaining calm throughout this trying moment, and [for] the co-operation given to the government officials dealing with the matter," it said in a statement.
A UK Foreign Office spokesman said Ms Johnston and Ms Moragwa, 26, were receiving support from British Embassy staff in Kabul, while the two Afghan nationals were returning to their families in Badakhshan.
Police in Badakhshan, which borders Tajikistan, China and Pakistan, described the gunmen as part of a criminal group which was taking advantage of the challenging terrain and the loose grip that Afghan security forces had on the area.