PSNI 'comfortable' that details of Queen's visit to NI are released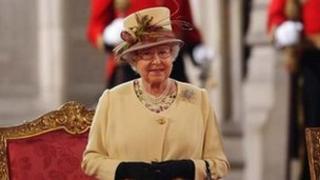 The police are comfortable about the decision to release advance details of the Queen's visit to Northern Ireland, according to First Minister Peter Robinson.
Her Majesty is to visit Northern Ireland on June 26 and 27 as part of the Diamond Jubilee tour of the UK.
She will be accompanied by the Duke of Edinburgh on visits to Enniskillen and Belfast.
It is the first time such advance notice has been given of a Royal visit.
Mr Robinson said the details would enable thousands to show their appreciation for the Queen.
Speaking on BBC Radio Ulster's Inside Politics programme, the first minister acknowledged that in the past people had not been given much notice about when members of the Royal family were travelling to Northern Ireland.
Pottery gift
"The PSNI have to be satisfied that they can deal with all of the issues around crowd control and the potential for people to try and make some kind of disruptive objective during the course of the visit," he said.
"The PSNI are comfortable about the issue. I'm looking forward to seeing thousands of people on the streets of Northern Ireland to welcome Her Majesty for the Diamond Jubilee."
Last month, Mr Robinson revealed that the Stormont executive is to present the Queen with a gift of Beleek pottery to mark 60 years since the coronation.
In March, Sinn Fein's Martin McGuinness, Northern Ireland's deputy first minister, said he would consider meeting the Queen when she visited Northern Ireland.