Festival of fun at Bangor's Jubilee party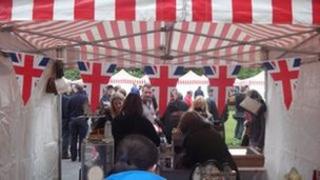 The Diamond Jubilee party in the seaside town of Bangor, County Down, was one of the few in the United Kingdom which avoided the rain.
People from different parts of Northern Ireland flocked to the fun-filled festival armed with coats and umbrellas, but they did not need them.
There was a 1950's theme with swing dancing, rock and roll and the hairstyles to match.
At times, Bangor looked like a scene from the movie Grease.
Among the crowd, there was praise for the Queen - not just for giving everyone an excuse for a party - but for her longevity, dignity and style.
It is not often the long-serving monarch is described as "cute" but that was the adjective used by Alicia McTeggart, from Carrickfergus.
"I just love her fashion sense, " said Alicia.
"For a woman in her 80s, she has impeccable taste. She still has the old 1950's glamour, with her gloves and her hats. I just think she's so cute."
The Queen has been to Bangor during her six-decade reign.
It is not clear whether she will be back during her Diamond Jubilee visit to Northern Ireland later this month.
It known that she is going to visit Belfast and Enniskillen but her full schedule has not been made public.
It is highly unusual for the dates of a royal visit to Northern Ireland to be released in advance. It is a sign of the improved security and political situation.
Another indicator of that improvement may come during her visit is a possible meeting with Sinn Fein's Martin McGuinness.
Twenty years ago, an encounter between the British head of state and the former IRA leader would have been unthinkable.
Now that Mr McGuinness is the deputy first minister at Stormont, it is a possibility.
The ground-breaking visit to the Irish Republic last year by the Queen demonstrated that British-Irish relations have been transformed by the peace process.
Sinn Fein leaders refused to meet her last year, but there are signs they may be having a re-think.
The forthcoming two-day Jubilee visit by the Queen is one of many high-profile events in June in Northern Ireland.
The Irish Open golf championship is being held at the end of the month, and will include local heroes Rory McIlroy, Graeme McDowell and Darren Clarke.
Speaking of sport, the Olympic torch has begun a six-day tour of Ireland, north and south.
The first town it went through was Rory McIlroy's home town, Holywood in County Down.
Hundreds of people lined the main street from 06:00 BST, ahead of the torch's scheduled arrival at 6.42. It arrived bang on time. And so did the good weather.
It was dry all morning. If you want to avoid the rain this month, it seems Northern Ireland is the place to be.