Michaela McAreavey trial hears evidence from key prosecution witness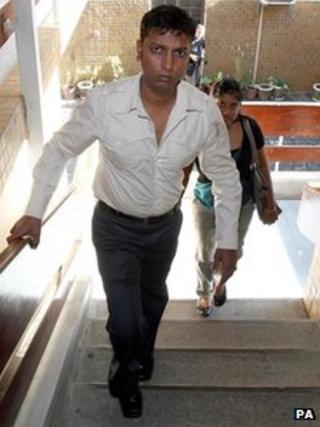 The key prosecution witness in the Michaela McAreavey murder trial has claimed he saw the two accused leaving her hotel room.
Avinash Treebhoowoon, 30, and Sandip Moneea, 42, both deny murdering Mrs McAreavey, who was found dead during her honeymoon in January 2011.
Former room attendant Raj Theekoy was robustly cross-examined by the defence.
They highlighted some discrepancies between his initial police statement and what he told the court on Monday.
In his testimony at the Supreme Court in Mauritius, Mr Theekoy said he had been cleaning a hotel room when he was joined by the two accused.
He said they had been discussing among themselves how they had noticed a 'do not disturb' sign on the McAreaveys' suite.
He claimed Mr Moneea telephoned their room and then left with Mr Treebhoowoon.
Mr Theekoy said a short time later he went to the McAreaveys' room to see what had happened.
"I was standing outside the door and I heard a woman in pain," he said.
He said he became scared because he thought the McAreaveys had been fighting, and he hid in a nearby room for around five minutes.
During his cross-examination, defence lawyers pointed out he had made no reference to this perceived fight in his police statement.
Mr Theekoy told the jury he saw both of the accused leaving the suite and claimed he saw Mr Treebhoowoon wiping water from his face.
He said after the alarm was raised, he saw various staff members rushing to Mrs McAreavey's aid.
He said he could see through the opened door that Mr McAreavey was crying and saying, "Please save my wife."
Mr Theekoy had been charged in connection with the case, with failing to come to Mrs McAreavey's aid after claiming to have heard her cries for help.
However, he has been granted immunity in return for his testimony.
His cross-examination is expected to continue on Tuesday.