Mother's anger over GAA club's 'IRA medals' for under-12s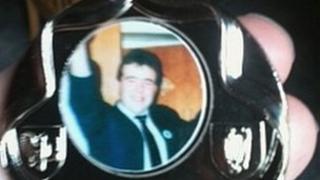 The mother of an 11-year-old boy is angry that children at a Gaelic Athletic Club football blitz at the weekend were given medals bearing the picture of a dead IRA man.
The medals given to the Under-12 boys at Galbally Pearses Club in Tyrone featured Martin McCaughey.
He and IRA man Dessie Grew were shot dead by the SAS in October 1990.
"It was outrageous. My son was asking what the hero did," said the mother who did not want to be named.
"We had no warning that the medals would be dedicated to a dead IRA man.
""I think we should have at least been told what the medals would have on them and given a chance to decide whether we wanted our children to take part or not."
A press officer for Tyrone Gaelic Athletic Association said: "If the mother has a comment, she should make it to Tyrone County offices, they would obviously look at it."
A spokesman for the GAA's Ulster Council said: "The Ulster Council has no comment to make until we receive official notification from the individual involved."
IRA men Dessie Grew and Martin McCaughey were shot dead by the SAS in County Armagh in October 1990.
The pair, both armed with AK47 rifles, were shot more than 30 times when an SAS unit opened fire at isolated farm buildings near Loughgall.
The deaths caused controversy in Northern Ireland prompting allegations of a "shoot to kill" policy, when it was revealed that neither of them had fired a shot during the incident, prompting claims that the SAS had opened fire on the men without making any attempt to arrest them.
The men's families campaigned for an inquest to be held for more than 20 years.
In May, a jury ruled that that the SAS had used "reasonable force" during the operation and that the IRA men's own actions had contributed to their deaths.
"Mr Grew and Mr McCaughey put their lives in danger by being in the area of the sheds in the vicinity of a stolen car, which was expected to be used in terrorist activity," the verdict stated.
"They were both armed with guns, wearing gloves and balaclavas and were approaching soldiers who believed that their lives were in immediate danger."
During the case, their barrister said that the families accepted that that both men had been on what was described as 'active service' for the IRA and were therefore liable to arrest.
However, they argued that the shooting of the two men as they lay dying on the ground was evidence of a shoot-to-kill policy.