PSNI warning over West Belfast Facebook sectarian posts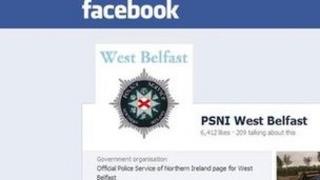 Police have threatened to prosecute people who posted a series of sectarian messages on the PSNI west Belfast Facebook page.
"Sectarian posting and incitement is illegal - we have seized some of these posts from yesterday with a view to prosecution," the PSNI website said on Monday.
Police also warned that they may 'pull the plug' on the wall posts.
They said an "immature minority" were causing disruption.
"West Belfast has the largest number of young people following us. We want this to continue," the posting said.
"Please help us to be able to keep this page useful by reporting these people to us via direct message and by asking them to stop. Otherwise we will have no option but to deactivate the wall posts."
In a statement on Monday, a police press officer said the messages had been removed and the content would be examined to assess if any laws had been broken.
"It is important to remember posting inappropriate comments on social media networks may be against the law," she said.
"We enjoy communicating with people in many different ways and look forward to continuing with our Facebook pages - a few irresponsible people will not spoil what we have for many others."