Ahoghill in a flap as bird droppings splatter down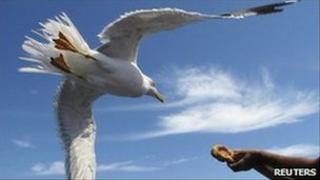 Residents of a small County Antrim village have had enough of their feathered friends.
Birds perching on electricity lines in Ahoghill are dropping unwelcome messages on passers by and leaving the streets dirty.
Now, villagers are making a flap about bird fouling and have complained to Northern Ireland Electricity.
NIE has said it has tried everything - even plastic hair rollers.
The power company said a solution to the problem was hard to find.
Deterrents include playing bird distress signals, using fake birds of prey to scare other birds away, using specialist fireworks and fitting lines with plastic hairbrush rollers.
But even the rollers have their drawbacks... the birds just move up the wires and somebody else gets one on the shoulder.
Natasha McGee, NIE's customer relations manager in Ballymena, said: "The most common type of deterrent we trialled was the rollers which, in themselves, have proved restrictive.
"They can only be fitted on a portion of the line and, in most circumstances, will pass the issue to adjacent neighbours.
"We are always very mindful that we cannot take action in a situation which knowingly this will create problems for other customers. This can be a very difficult message to communicate to customers."
Ms McGee said she appreciated that it was "extremely unpleasant and frustrating" adding: "We have every sympathy".