Dissident republicans disrupt NI torch relay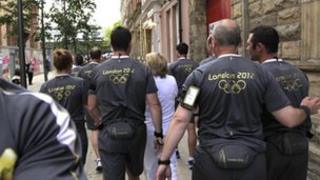 The Olympic torch relay route has been disrupted for the first time since it arrived in the UK.
Dissident republicans staged a protest in Londonderry - against policing - on day 17 of the relay. The torch had to take a brief detour before it crossed the Peace Bridge.
The protest happened at the rear of the Guildhall. One man has been arrested.
SDLP MLA Mark H Durkan said the "wonderful occasion" had been "marred by the actions of a tiny minority".
"I have spoken to many people following the incident, all of whom have expressed disgust and even a degree of embarrassment at the incident," he said.
"The vast majority of people in the city are united by a desire to drive Derry forward and it is a real shame that a few others are so determined to drag it back."
In a statement, the PSNI said they believed that a number of dissident republicans were involved in the protest.
The Peace Bridge in Londonderry links the Cityside to the Waterside and was built to symbolise a shared future for the city.
Democratic Unionist Party MP Gregory Campbell said the protesters were "pathetic".
"The minor inconvenience which it brought is not the major issue, it is not even the negative headlines that their actions bring to Northern Ireland which is the overriding concern, but it is the potential that their activities bring to the first ever UK City of Culture events next year," he said.
"It is clear they are not going to be reasoned with, therefore the response from within their own community must now be swift and unequivocal and the security response to dealing with their efforts will need to be reviewed."
Earlier, the Olympic torch visited the furthermost point of the Giant's Causeway and crossed the famous Carrick-a-Rede rope bridge in County Antrim.
It was also was carried on a eight-man rowing boat on the River Bann.