Michaela McAreavey trial hears key witness was held for 77 days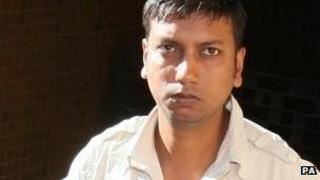 The key prosecution witness in the Michaela McAreavey murder trial was held by police in Mauritius for 77 days, the court has heard.
Avinash Treebhoowoon, 30, and Sandip Moneea, 42, both deny murdering Mrs McAreavey, who was found dead in her honeymoon suite in January 2011.
Raj Theekoy was verbally charged while in custody with conspiracy to murder, but there was no formal written charge.
He is being asked about alleged inconsistencies in his statements.
Under cross-examination, the former room attendant told the Supreme Court in Port Louis on Monday that he had not been drinking tea in the canteen with Mr Treebhoowoon an hour after the killing.
Defence lawyers put to him on Tuesday they had been laughing and joking together, but he said: "No, I did not do that."
However, when he was shown photographs from CCTV footage, he admitted being there but said he had been drinking juice.
Defence lawyers also took issue with what Mr Theekoy claimed to have seen at the McAreaveys' suite.
In one statement to police, he said he clearly saw both accused leaving the room; in another he said his view was obscured by an L-shaped wall, while he also said he initially saw Mr Treebhoowoon and afterwards remembered he had seen Mr Moneea leaving as well.
Mr Theekoy had been charged in connection with the case, with failing to come to Mrs McAreavey's aid after claiming to have heard her cries for help.
However, he has been granted immunity in return for his testimony.
Restaurant
Later on Tuesday, the jury heard from a supervisor of the poolside restaurant at the former Legends Hotel, where the McAreaveys shared their last meal together.
He said he had gone to fetch them tea but Mrs McAreavey was not there when he returned to the table.
He recounted how her husband John waited for a long time before finally asking for the bill and leaving the restaurant.
The court also heard from a doctor called to attend Mrs McAreavey when the alarm was raised.
Dr Ramachandra Sunassee said that when he arrived, she showed no signs of life.
As the court was adjourning, the state prosecutor rose to address the judge and announced his intention to call Mr McAreavey to give evidence on Wednesday.
It is expected to take much of the day.