'Shay Gibbon' given blessing by Republic of Ireland goalkeeper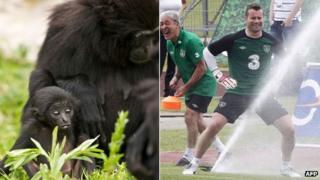 Republic of Ireland goalkeeper Shay Given has said he feels honoured that a baby gibbon is to be named after him.
Fota Wildlife Park in County Cork asked people in a Facebook poll for naming ideas for their three-month-old agile gibbon.
Even though excitement is building ahead of Euro 2012, Shay was not the most commonly suggested name, according to the park's marketing manager Stephen Ryan.
"Shay came up six times, and we also got Mel and George, but the most suggested name was Robin, after the late Bee Gees singer," he said.
Unisex
Mr Ryan said they needed a unisex name because they do not yet know if Shay Gibbon is a girl or a boy, as it has been fiercely protected by its mother since its birth in March.
"We were a bit unsure about Shay at first, but then we realised there was a female character in the television show Game of Thrones called Shae, so that kind of covered that," he said.
"In the end, Shay Gibbon was miles ahead in the voting."
He said staff at the park were worried that Shay Given might object "because not everyone wants an ape called after them".
However, when they sent him a message on Twitter, the Aston Villa goalkeeper replied : "Hi Shay great name #honoured."
Even his wife was impressed, tweeting : "That's 1 funky gibbon."
While the Donegal man is known for his commanding presence in the penalty area, his little namesake is slowly learning to fight his corner as well.
"He's a timid little character, but he's putting up a fight because has a three-year-old brother Billy who's very jealous," said Mr Ryan.
"He's like a little toddler with a newborn baby - apes behave very like humans."