Hijackers drag pensioner from van in Derry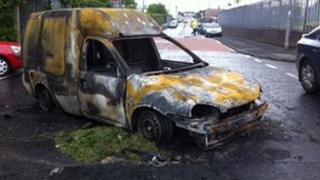 A 76-year-old man has been dragged out of his van by hijackers in Londonderry.
Willie Hegarty was driving with a female passenger on Iniscarn Road in Creggan at about 21:30 BST on Tuesday when three youths forced him to stop.
The van was later found on fire at Fanad Drive. Mr Hegarty said: "I'm still shaking, it scared the life out of me."
Deputy Mayor Kevin Campbell described the incident as "absolutely disgraceful".