Poles stand behind Trapattoni's team for Euro 2012 opener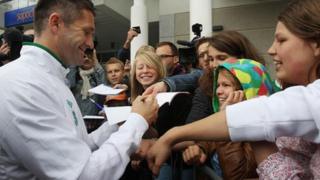 The Republic of Ireland kick off their Euro 2012 campaign on Sunday night and it is expected that at least 25,000 fans will make the trip to Poland for the game.
But Giovanni Trapattoni's team can also count on support from at least 13,000 people from the Gdynia area of Poland for the team's opening match against Croatia.
The Republic's last warm-up match was against Hungary on Monday night. Tuesday morning started at 05:00 BST to catch a coach for our trip to Poland.
Two flights and two buses later, myself and my cameraman arrived in the seaside resort of Sopot just in time to catch the Irish in training.
To say we were a little groggy would be fairly accurate.
Then, as the bus slowly made its way towards the stadium, there were police cars, and thousands of fans everywhere. Surely the Republic's fans could not be there already?
We knew the team had an open training session but what I did not expect was 13,000 fans inside the stadium.
A cauldron of noise greeted us, and green and white balloons ascended into the bright sky.
"You'll never beat the Irish" was the tune which belted from the spanking new sound system in the refurbished stadium.
It was quite the pick-me-up after a long day.
The players genuinely looked stunned when they walked onto the pitch.
I could see Stephen Hunt peeking outside the tunnel before the players were visible to the crowd. His face was priceless.
This all followed a civic reception in the town square for the Irish team.
Jon Walters, impressive coming on as a substitute against Hungary on Monday, was flattered by the scenes.
"They were incredible, I wasn't expecting that at all," he said.
Trapattoni, the Irish coach, was himself mobbed by Italians from his homeland last week.
Police had to escort the 73-year-old away to safety after he joined Audrey Hepburn, Grace Kelly, Burt Lancaster and Pele with a star on the Montecatini 'Walk of fame'.
"These scenes today are so very special. I thank everyone for their welcome we received today," he said.
John from Dublin was one of the very few Irishmen inside the stadium.
"The Irish fans are unbelievable today - and they haven't all even arrived yet," he said.
You can follow all the latest from the Irish camp on Twitter: @thomasniblock