Earthquake recorded off west coast of Ireland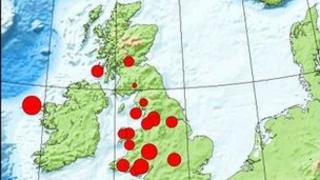 An earthquake measuring 4.0 magnitude has struck off the west coast of Ireland.
It happened 60 km off the County Mayo coast at 08:58 BST.
According to the British Geological Survey (BGS), which monitors earthquake activity, it was strong enough to be felt in the county.
The BGS said it had not recorded an earthquake of that magnitude in that area previously.
The light tremor was measured at a depth of 15 km.
Tom Blake from the Irish Seismic Network said the quake was the strongest since 1984 when an intermediate tremor of 5.4 was recorded in the Irish Sea.
Similar sized earthquakes have been registered across the British Isles, normally every three to four years.
Micro tremors were felt in parts of north Donegal in January and March near Buncrana.