Belfast to Bangor road to be hit by weekend delays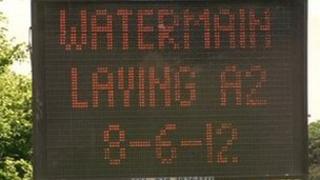 One of Northern Ireland's busiest roads will be hit by weekend delays for five months.
Northern Ireland Water are digging up the main Bangor to Belfast road, in both directions, to lay a water main.
The work will be done in sections, but the four lanes of the road will be reduced to two, one in each direction.
The work will start at 19:00 BST on Friday evenings and continue until 06:00 BST on Monday, to avoid the rush hour.
Busiest
The road is one of the busiest in Northern Ireland. On a weekday it is used by about 50,000 motorists.
Dr Gary Curran, head of the £2m project, said: "The fact that we are working at the weekend, we feel that we have hopefully minimised the disruption as much as possible.
"Without doubt there will be some disruption to the traffic flows but we will be able to translate that back to the signs and let people know exactly what is going on."
The main laying will start on the edge of Holywood and will go in the direction of Bangor to the Crawfordsburn turn off at Ballyrobert for 4km.
It will take place in sections of roughly 1km at a time. Two kilometres of pipe laying will also be done in Cultra.
North Down councillor Andrew Muir is worried the traffic delays will put people off visiting Bangor.
"People can be rather impatient and we are disappointed NI Water are taking this forward during the summer which is obviously the peak trading season for Bangor as one of our seaside towns," he said.
"But it is quite clear it is going ahead and we would encourage people to think before they make that journey, think if they would like to take a trip through Newtownards or take the train for example.
"And to take less stress and be able to arrive in the borough and enjoy Pickie and the other things that are in Bangor."
North Down Council recently spent £2.5m on its revamped Pickie pool fun park.
The work is also likely to create noise especially to residents overnight.
Gary Curran from NI Waters said they have tried their best to minimise it.
"We would apologise for the the noise that is being generated by our works," he said.
"We would try to minimise it and it will hopefully be for one weekend, maybe two for residents, then we would have moved up the road.
"So it is a short-term pain for the greater benefit of the whole area."
NI Water said the work is due to be completed by the end of October.
Further information on the scheme will be available after noon on 7 June at http://www.niwater.com/a2watermain.asp
NI Water's customer relations team can also be contacted via Waterline on 08457 440088.
Customers with any questions on the scheme should quote A2/ North Down Bangor Watermains Rehabilitation Programme.