Nesbitt is first unionist leader to speak at Leinster House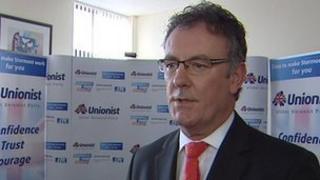 Ulster Unionist Mike Nesbitt has become the first leader of a unionist party to speak at Leinster House, the home of the Irish parliament.
Mr Nesbitt was addressing the cross-party Joint Oireachtas Committee on the Implementation of the Good Friday Agreement.
He said much has been achieved, but there was still more to do "and we should also question why it is taking so long".
In a wide-ranging speech, he called for Northern Ireland to have a single education system and said politicians needed to do more to create a shared society.
"The challenge of creating a shared future is to convince people it is a good idea," he said.
"A friend of mine who is a businessman in Belfast puts it this way: our housing is segregated, our schools are segregated, many of our sports are segregated; we go to our separate churches.
"In fact, the only arena where people have to mix is the workplace, and businessmen and women have a legal obligation to ensure they do.
'Example'
"That's not good enough. We, the politicians, need to take the lead, we need to set the example, we need to take more responsibility than business people, not less."
Arguing for a single educational system in Northern Ireland, he said: "We must merge four into one. And that is a huge challenge to the churches, to the vested interests in education, and to us, the politicians."
He also discussed the Queen's first state visit to the Republic of Ireland last year.
Mr Nesbitt said it was "one of the greatest acts of leadership I have ever seen - and an example to us all that you can do these things without compromise to your own identity, your heritage and your belief systems".
Mr Nesbitt, a former UTV presenter and victims commissioner, was first selected as a UUP election candidate in 2010.
He was elected leader of the party in March.