State Pathologist Dr Jack Crane briefs committee on human tissue retention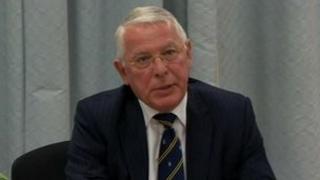 Pathologists would not dispose of human body parts held in criminal investigations without being told to by police, MLAs have been been told.
State Pathologist Dr Jack Crane was briefing the Stormont justice committee on the retention of human tissue.
Last month it was revealed the police and the office of the police ombudman kept tissue belonging to over 60 people without their families' knowledge.
Dr Crane said his department did not have authority to destroy this tissue.
He was responding to Sinn Fein's Raymond McCartney, who quoted evidence given to the committee by Assistant Chief Constable George Hamilton that police were not involved in the destruction of any human material.
Helpline
Dr Crane said a helpline, set up in 2002 for families who were concerned tissue may have been retained without their knowledge, received about 300 calls.
Asked by committee chairman Paul Givan of the DUP why it was left to the public to make these enquiries, the pathologist said his understanding was that "a number of families would not want to have this information".
Mr McCartney asked about examples of tissue being retained without the knowledge of the family and subsequently being destroyed.
Dr Crane explained that the Human Tissue Authority currently advised that if there was no reply from the family after three months, "you should dispose of the tissue".
The DUP's Sydney Anderson asked what the reaction had been from the families when they were told tissues had been retained without their knowledge.
"Some were angry, some accepted it," the pathologist replied.
'Assumed'
Mr Givan said the state had "assumed rights that never belonged to them", and called for an inquiry.
The committee also heard from representatives of the Police Ombudsman's Office on human tissues it had retained without the knowledge of families.
One of them, Peter O'Sullivan, told members they had retained seven samples in connection with four people.
He apologised for "the upset and anguish each family has suffered".
Mr Givan questioned the office's timing of its announcement last month, on the same day police and Department of Justice officials briefed the committee on body parts held by the PSNI.
He said a cynic would say the ombudsman's office wanted to get the news out "while the police were in the frame".
Asked by DUP MLA Peter Weir what flaw in the system had allowed this to happen, Mr O'Sullivan said the office had an old computer system and there was no proper tracking system for samples.
Prior to 2008, "we very much relied on human memory and human checks and balances," he said.
The committee agreed to write to Justice Minister David Ford to ask how he intended to proceed.