Who are they ... mystery solved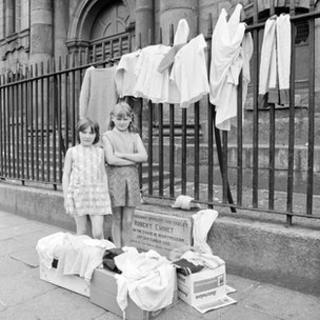 Two young girls in dresses sell their wares outside St Thomas Church in Dublin in the summer of 1969.
But who are they and where are they now? That was the question posed by the National Library of Ireland.
"These two young entrepreneurs had set out their "stall" in front of St. Catherine's Church on Thomas Street in Dublin.
"It would make an old library very happy if these girls could be identified," reads the caption.
And, thanks to the wonders of modern technology, the mystery was solved.
The sister of one of the girls, Margaret Collins, posted a message to say that it was Elizabeth Collins and Angela Arnold.
The picture is one in a long line published by the library over the past year.
And just as every photograph is worth 1,000 words - so the comments and the information have been flowing back and forwards.
One joker suggests the young women were the founders of Primark, another wonders about the Robert Emmet plaque in the picture.
It is all in a day's work for Carol Maddock, the social media coordinator at the library in Dublin.
"We've been posting pictures from our archives on Flickr for a year now," she explained.
"There have been more than 1.5 million views and the information we are getting back is amazing.
"In one case, we posted a picture of a little boy taken in 1917 and we got a message from someone who said: 'That's my father-in-law when he was a child'."
The libary has more than four million pictures.
The old photographs are a valuable history of an Ireland that has disappeared - from scenes taken days after the rising in Dublin in 1916, to old women barefoot at the Giant's Causeway to the first motor car to grace the streets of Larne , many years ago.
"We had no information at all on this photo, beyond the fact that it was a motor car at Larne," said Carol.
"By the time our 'Flickroonies' were finished with it, we had an exact location on Chaine Memorial Road, and had identified the driver as hotelier, Henry McNeill."
There was a lot of interest in two photographs of Middle Row, Lurgan, County Armagh.