Owen Corrigan says Smithwick Tribunal collusion claims 'terrible lie'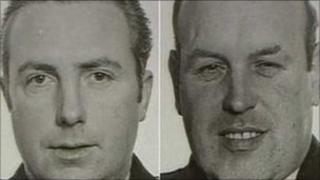 A former Dundalk garda has described allegations he colluded with the IRA in the murders of two RUC officers as a "shameful, monstrous and terrible lie".
Retired Detective Sergeant Owen Corrigan said he was anxious to appear at the Smithwick Tribunal to tell "the true facts in this sorry saga".
The tribunal is examining allegations surrounding the IRA murders of Harry Breen and Bob Buchanan in 1989.
Mr Corrigan said he would refute "each and every allegation" against him.
A number of allegations about Mr Corrigan have been put before the tribunal:
An RUC special branch intelligence document stating that Mr Corrigan was "helping out" the Provisional IRA
A statement by Chief Supt Harry Breen's staff officer which said Mr Breen was uneasy about travelling to Dundalk because he had concerns about Mr Corrigan;
Evidence by former British agent Kevin Fulton, also known as Peter Keeley, that the IRA had been helped in setting up the ambush which led to the murders by "our friend" the garda, whom Keeley believed to be Mr Corrigan;
A statement in the House of Commons in April 2000 by MP Jeffrey Donaldson that Mr Corrigan had passed information to the IRA.
Mr Corrigan told the tribunal that when Mr Donaldson made those remarks under parliamentary privilege, he was accompanied that day by Kevin Fulton, whom he described as "a reject from the British army" and "a fantasist".
Also there was campaigner Willie Frazer, whom Mr Corrigan said had "caused a riot when he came here with his Love Ulster parade".
Mr Corrigan gave a strong defence of his time in An Garda Siochana.
He said he had served the State loyally for 36 years and claimed he had "contributed more than any other member of An Garda Siochana to peace in our land".
Under questioning by legal counsel for the tribunal Justin Dillon, he said he took extended sick leave from the gardai in 1989 before retiring three years later because he had been ill-treated following a "change of regime" in the Dundalk station, when his "power base collapsed".
Mr Corrigan was being investigated for nine alleged breaches of discipline, including unauthorised use of official vehicles and being absent without leave from his duties on two occasions in July and August 1989.
On one of those occasions, RUC informer John McAnulty was abducted from a bar and murdered.
Mr Corrigan said he took "grave exception" to anyone questioning his loyalty.
He said he had been involved in many "very dangerous missions, meeting very, very dangerous people".
The tribunal also heard Mr Corrigan described as a "talented" garda with a proven track record in tackling subversive activity.
He will continue giving his evidence on Friday.