Ocean Youth Trust NI Ltd fined over safety failures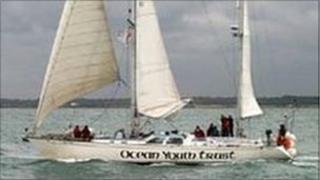 A sailing charity has been fined by a court for failing to operate safely.
The activities of the Ocean Youth Trust Northern Ireland Ltd were investigated after its 70ft yacht sank in June 2010.
The Lord Rank yacht hit rocks near Kinbane Head off the north coast. Six people, including three Downtown Radio presenters, were rescued by the RNLI.
The charity was fined £250 for failing to keep proper records and logs over a six-week period in 2009. It said it accepted the findings.
The case was taken by Maritime and Coastguard agency which launched an investigation into the activities of Ocean Youth Trust Northern Ireland Ltd following the sinking of the Lord Rank.
The vessel was being used to raise funds for a children's charity and was en route to Portrush when it got into difficulty.
Omission
The skipper's employment was terminated after the incident and he received a formal caution from the agency.
The agency's investigation uncovered failures in the trust's logs and records.
In court, a defence solicitor acting for the trust said it had accepted its failures and had taken steps to improve the way it runs its operation.
A prosecution solicitor acting on behalf of the Maritime and Coastguard agency said it was mindful this case was being taken against a charity and any penalty should reflect that.
The district judge acknowledged the good work the charity had done with young people and imposed a minimal fine of £250.
In a statement, the Ocean Youth Trust Northern Ireland Ltd welcomed the outcome of the court case, describing its failure as a "bureaucratic omission".